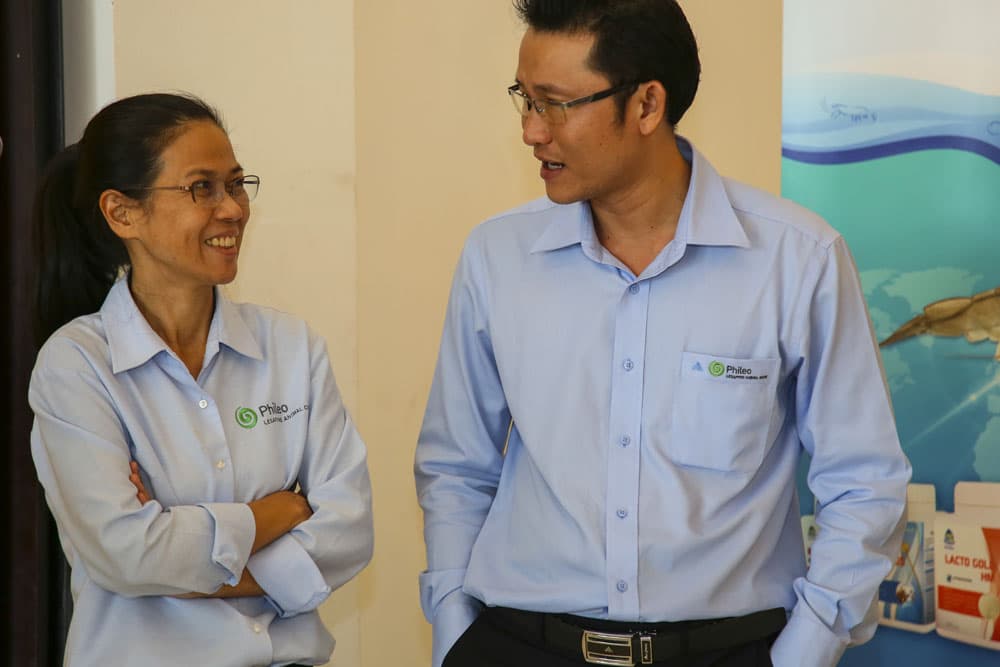 09 Jul

Phileo and Thần Vương present action plan to shrimp producers in Vietnam

Nowadays the Vietnam Shrimp market is facing low market prices and is suffering from losses in production due to diseases.

Improving the industry situation can only be achieved by a proactive approach enhancing shrimp health to better resist pathogen infection and by stimulating and maintaining a strong function of shrimp immunity. This approach was addressed in a seminar in Ben Tre and Bac Lieu Province by the Thần Vương Group and Phileo Lesaffre Animal Care on June 14-15, 2018.  The successful event was well attended by the local aqua industry.

Yoann Perrault – Vietnam Sales Manager set the scene, introducing Lesaffre and Phileo Leasaffre Animal Care.
Thanks to skills and knowledge enriched over the course of 165 years of experience, Lesaffre can offer its clients unparalleled expertise in every form of yeast manufacturing and processing.
At the heart of this are the group production activities served by more than 10,000 employees working at some 62 industrial facilities.
Each Phileo solution is the fruit of highly-advanced technical expertise that can be seen all along the production chain, from the development of strains to the engineering of our facilities. Wherever they may be, all our industrial departments share the same culture of excellence and stringency: application of regulatory standards in terms of product traceability, health and safety requirements, quality controls, etc. Phileo is committed to delivering future evidence-based solutions that enhance farmed fish and shrimp health and performance.

Tanuttha Suyawanish – APAC Aquaculture Technical and Marketing Manager focused in her presentation on the importance of gut health in shrimp production and how Phileo can help shrimp producers in maintaining gut integrity. How the application of Actisaf® Sc47 improves white feces disease was discussed in detail.

Next Tanuttha Suyawanish explained to the public how supporting natural defenses and reduces pathogen pressure with Safmannan® improves overall cost efficiency. Trial results with Safmannan®, premium yeast fraction rich in mannan-oligosaccharides and ß-glucans, showed the enhancement of immunity and reduction of pathogen pressure during AHPND/EMS infection in shrimp.

Thần Vương group concluded the seminar with local field results and practical examples of the use of Phileo yeast solutions under Vietnamese conditions in shrimp farms.

Phileo likes to thank all speakers and public for their active participation making this seminar a great experience for shrimp producers in Vietnam.