21 Apr

Time for a new probiotic for premium dry dog food

Time for a new probiotic for premium dry dog food

Marcq-en-Baroeul, France (April 20, 2022). Phileo by Lesaffre launches Actisaf® Sc 50 PET in the USA, the first probiotic ever to remain viable throughout the entire shelf life of dry food.



Following the FAO definition, a probiotic is an orally administered live microorganism that, when consumed in adequate amounts, confer health benefits to the host. The most convenient and efficient way to ensure intestinal health for dogs is a daily administration of probiotics through their dry food.

Dr. Rodolphe Rabot, Phileo's Pet Global Species Manager explains: "We designed Actisaf® Sc 50 PET after 4 years of research and development with universities, research centres and key industry partners. Based on our expertise in strainelection and petfood technology application, we have selected Actisaf® Sc50 PET (CNCM 5660) a Saccharomyces cerevisiae yeast probiotic specifically formulated to address technological challenges in relation to pet foods. With unique characteristics to secure convenience and shelf life, Actisaf® Sc 50 PET has been specifically processed to blend easily and safely with powder palatants and allow post extrusion coating of dry food".

"The probiotic has been tested in healthy adult dogs through several studies, continues Dr. Ashraf Adib Lesaux, R&D Pet Manager at Phileo. In these studies, a dietary transition model was used to create a physiological gut dysbiosis, designed to evaluate how the product shapes both microbiota composition and activity while also being representative of normal life conditions.

These studies confirmed:
Actisaf® Sc 50 PET is safe and well-tolerated by dogs. Indeed, all dogs remained in very good health throughout the studies. No supplementation-related changes were found during the study in relation to hematology or clinical chemistry parameters. Body weights were maintained throughout the studies for all dogs.
Actisaf® Sc 50 PET stimulates mucosal immunity, as proven by increase of fecal IgA.
Actisaf® Sc 50 PET has a positive effect on fecal quality through the reduction of pH and of fecal putrefactive compounds produced by protein catabolism. Actisaf® Sc50 PET can thus help to decrease issues related to dog fecal odor and support digestive hygiene.
Actisaf® Sc 50 PET contributes to intestinal microbiota balance by favorably modulating bacterial populations (increase of beneficial bacteria and decrease of potential pathogenic bacteria), especially when the intestinal tract is challenged by diets. "
Actisaf® Sc50 PET was finally also validated by pet parents in their households. Phileo by Lesaffre indeed partnered with Panelis, a worldwide recognized partner, to carry out home-based studies on dogs which were supplemented with Actisaf® Sc50 PET for 3 weeks. 102 dogs considered by their owners as digestion sensitive, were selected. The panel was well-balanced between males/females, dog size and pure breed/cross breed dogs at different ages. Based on a series of questions, asked to the dog parents, analysis was carried out to interpret the initial digestive condition of the study dogs, compared to their condition at different points in the treatment. The perceptions of the owners on the long term effects of Actisaf® Sc50 PET was also assessed after 3 weeks of supplementation and 3 weeks after the end of supplementation. The study, in addition, showed the visible benefits on dog behavior according to their owners, allowing the study team to better understand owners' interest in dietary supplementation.
Following the study, owners perceived an improvement in their dogs' digestive health week after week, from the first week 63% of owners noticing an improvement when questioned at the end of the evaluation.  These results were very significant, revealing not only a rapid improvement but also the maintenance of this improvement even after the treatment ended. Actisaf® Sc 50 PET is clearly reaching the targeted action site quickly and displaying its benefits, this to the great satisfaction of pet parents.
Dog owners perceive that Actisaf® Sc 50 PET has a positive impact on the improvement of their pet's general digestive health. Specific benefits mentioned are on stool consistency, appetite, and the reduction of gas and belly sounds.
Thanks to its record-breaking viability of 18 months onto dry food, its proven benefits on overall digestive health and its positive evaluation by pet parents, Actisaf®® Sc 50 PET allows pet food manufacturers to bring value to their diets and to contribute to the wellbeing of our furry friends.
Phileo created a comprehensive manual for pet food producers detailing guidelines about the use of probiotics in modern pet foods, the recent studies demonstrating the benefits of Actisaf® Sc 50 PET and its benefits for pet food producers. Phileo offers the user manual for download on their website.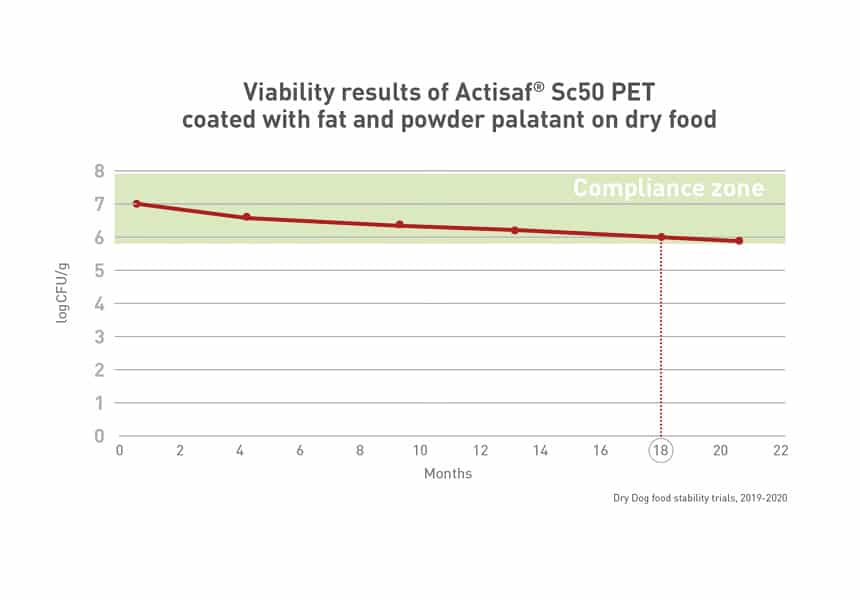 Stability results of Actisaf® Sc 50 PET in dry food
Actisaf® Sc 50 PET is stable for up to 18 months coated with powder palatants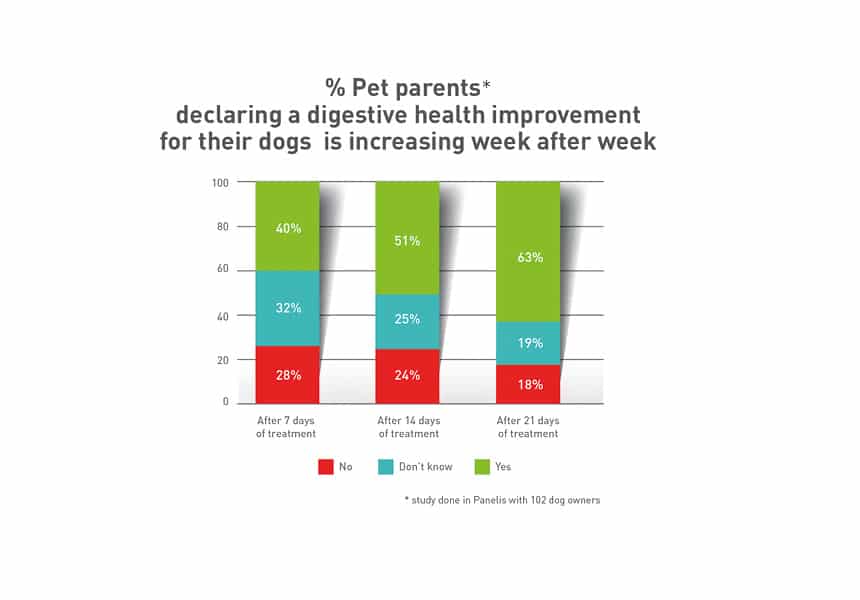 Global perceived improvement of dog's digestive health with Actisaf® Sc 50 PET supplementation by pet parents
Dog's owners were asked: "During the past weeks, would you say that your dog's digestive health has been improved / deteriorated?". The improvement is welcomed by pet's parents from the first week and increases week after week. 63% of them declare a positive effect on digestive health after 21 days.
About Phileo
We daily support our partners, from global industry players to family farmers, in their transition towards sustainable good practices. With them, we develop tailor-made solutions for preventive care allowing a limited and responsible use of antibiotics by mastering microbiota and immunity. Our shared ambition is to raise healthy animals while sparing planet resources and energy. Our rich collection of proprietary probiotic strains allows us to develop evidence-based solutions taking into account animal species' diversity ranging from pets, livestock, poultry, fish to insects to overcome the increasing complexity of food production.
Let's act with nature for animal care
Press contact Phileo by Lesaffre: Clementine Mariën – c.marien@phileo.lesaffre.com
To learn more about Phileo, please visit www.phileo-lesaffre.com