09 Jun

All About Feed Forum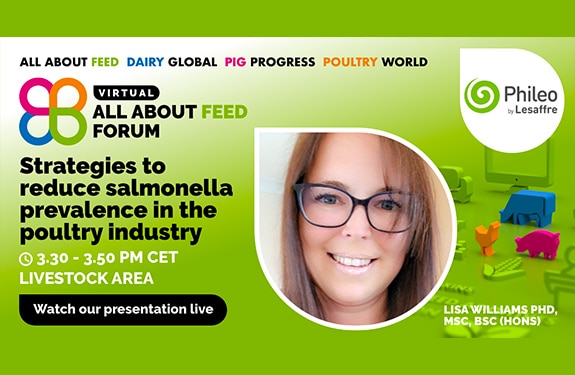 Due to the covid-19, it may seem like we are standing still, but nothing could be further from the truth explains Alain Riggi, Global Poultry Manager at Phileo by Lesaffre.
The feed industry is changing rapidly, it becomes more sustainable, more efficient, more healthy and more transparent. We thrive to work together in the best possible way for the best possible outcomes.
The upcoming "Virtual All About Feed Forum" brings together industry leaders to share their knowledge, get acquainted with each other and with other parts of the industry. The poultry team will actively participate to this virtual forum, to highlight our knowledge on yeast postbiotics and their benefits for the animals, the farmers and consumers.
Phileo seized this opportunity to be a major sponsor and actively engage during the event with a virtual booth and a presentation. Our focus was on poultry and the beneficial effects of Safmannan on food safety. Alain Riggi selected Dr. Lisa Williams from Hartpury University, UK, to give a presentation on "Strategies to reduce Salmonella prevalence in poultry". Lisa Williams is lecturer in the Animal Science department in Hartpury University (UK). Her research primarily focuses on the foodborne pathogen Campylobacter, next to a keen interest in other foodborne pathogens particularly Salmonella. She has used in-vitro and in-vivo models to examine the immunological response of chickens to challenge with these pathogens. She has an interest in dietary additives and host-pathogen interactions. In her presentation, Lisa presented an update about Salmonellacontaminations, how Salmonella infections compromise broiler and layers health, information about biosecurity measures and how postbiotics like Safmannan can be part of the solutions to reduce the risks of Salmonella contamination.
Safmannan, the reference postbiotic, is a proven efficient sustainable solution for the reduction of both vertical and horizontal transmission of Salmonella while delivering consistent and high-performance outcomes in broilers, egg-laying hens and breeders. And we strongly hope that we delivered this message during the All About Forum. 🐔
Click below to rewatch Lisa Williams' presentation below