19 Mar

Actisaf® is fed as part of the herd's diet throughout the year
When it comes to milking cows, the key to exceptional results is detailed and thorough management. But with a day full of jobs to do, it is easy to get caught up in the day-to-day chores and not make time for the more finely-tuned management strategies that can make all the difference to a herd's yields.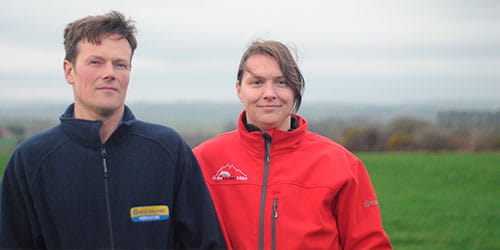 Keith and Alexandra Ross milk 170 Holstein Friesian cows on Ballyvoige Farm, a 222-acre farm in southwest Ireland. Their herd averages a yield of 5,500 litres with 4.15% butterfats and 3.68% protein that is supplied to Bandon Co-op, part of the Carbery Group. They aim to graze their herd from mid-February to October with a stocking rate of 3.25 cows per hectare. The Ballyvoige herd has been closed for several years, as they raise their own replacements with Fleckveih genetics being introduced, with two-thirds calving in spring and one-third in autumn.
The cows' winter milking diet includes home-grown grass silage, concentrate, straw pellets and beets through the mixer wagon, in addition to being parlour-fed.
The couple run their farm with their animals' well-being as a top priority, with German-born Alexandra carefully managing and overseeing the farm's data and analytics. "I have a background in management and really enjoy the data management side of running a dairy farm. Unfortunately, with our current facilities, a lot of our time is spent in day-to-day activities like milking and feeding and labour is very hard to find," she said.
To free up more time for Alexandra to utilise that data more effectively, and for Keith to focus more on forage management, they decided to invest in the construction of a new facility, complete with two milking robots and loose housing (no free stalls/cubicles).  She continued, "With the new facility and the milking robots, we will be able to concentrate on our cows' well-being and the details of their management, digging deeper into the numbers and improving our yields. Keith is also looking to improve our grass silage quality, which we do all ourselves, by introducing a multi-cut system as well."
Improving their outputs through management is not a new concept to the Rosses. A few years ago, they explored the use of yeast-based products in their herd's diet to aid digestion and rumen function. They started with a dead yeast additive but were disappointed with the lack of results. Alexandra explained, "That avenue wasn't working for us at all, but Gerald and Jane at Allen Nutrition introduced us to Actisaf live yeast, and we haven't looked back since. We quickly noticed an improvement in our yields and have had no major problems, I wouldn't dream of taking them off if it."
Actisaf is fed as part of the herd's diet throughout the year, included in their dry cow, winter milking, and grazing diets, where it is fed through the parlour. "The cows have done so well on Actisaf, and we are already looking to add it into our beef finishing diets. As we move forward, we aim to feed it to all of our stock!"